Posted March 21, 2019
Setting up a T-shirt company in your basement, garage, or home-office is increasingly popular. So the team at FLAAR (USA) and FLAAR Mesoamerica (Guatemala) are doing research to prepare an educational series of publications on how to get started in T-shirt printing. We will discuss differences between toner printers for T-shirts, sublimation ink T-shirt printers, and pigment ink T-shirt printers.
Attending APPPEXPO 2019 in Shanghai was a helpful printer trade show because more than 17 brands of T-shirt printers were on exhibit. They ranged from T-shirt printers to get started, T-shirt printers for step by step evolving to a regular T-shirt business, and T-shirt printers for serious production full-time. I would like to start with suggestions for a first-time T-shirt printer: Ricoh Ri 100 is one to look at for sure. An additional first-time T-shirt printer using toner is the new BINTERJET technology using vixde brand laser beat transfer media. What I liked about BINTERJET was the ability to add lustrous metallic-like color.
As soon as we have a contact at Ricoh and access to their T-shirt printer, we will write a full report and show the results possible with a Ricoh T-shirt printer.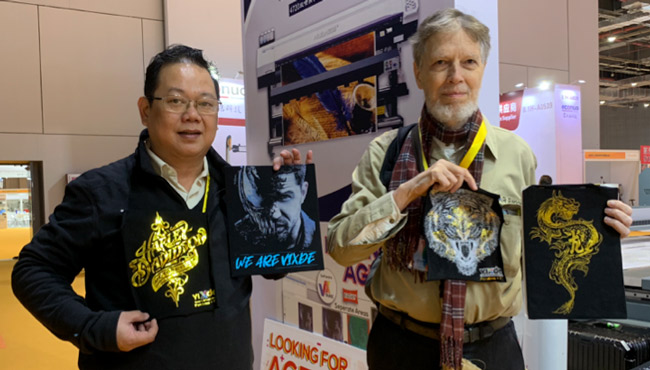 ---
Once we have an in-house team acquire experience with T-shirt printing, we would like to work together with local people's associations in rural areas of Peten and Alta Verapaz, Guatemala, to provide training so they can set up their own T-shirt companies to provide income for their families. Our goal will be to focus on showing the local tropical flowers, local birds, and local foxes, armadillos, agouti, etc. to encourage protecting local flora and fauna.