Flora and Fauna research team:
We study flowering plants, lichens (can produce dye colorants as can several mushrooms of Guatemala) and especially edible plants plus plants that can provide useful materials. We also have a project to find all trees with cauliflorous or ramiflorous flowers and all trees and lianas (woody vines) with spines, prickles or thorns.
Our focus is high-resolution digital photography of these plants, to assist in publishing which under-utilized plants are edible and more healthy than modern junk food. We are interested in any plant that can help replace plastic, etc. The library aspect of this is accomplished by our library research team María José Toralla, Diana Sandoval, Vivian Hurtado, flora-fauna researcher Victor Mendez and Nicholas Hellmuth.
We are able to find rare and under-studied plants because we have experience (and initiative and energy) to hike for kilometers out into the rain forests, wade through rivers, swamps, and bogs, climb steep hills and reach biodiverse ecosystems that no other ecologist, botanist, or zoologist has yet recorded. Senaida Ba Mucu assists us on all field trips especially in Q'eqchi' Mayan-speaking areas of Alta Verapaz, Peten, and Izabal.
Belen Chacon continues the helpful long-range project of Nicholas Hellmuth of edible and useful plants of the Maya and their neighbors of Mesoamerica. Elena Siekavizza helps us catalog our multiple terabytes of year 2018-2019 photographs of flora, fauna and ecosystems of Parque Nacional Yaxha, Nakum and Naranjo. Sergio Jerez accomplishes research on plants and animals that we are studying plus assists in preparing the GPSMAPS of each field trip to show where we were every hour of every field trip and what we photographed and when and where.
Flora and Fauna reports design and production team:
We prefer to prepare our reports in-house and use lots of full page photographs. All our reports on flora and fauna are not commercialized; they can be downloaded by professors, students, organizations, interested lay people, etc. Andrea Sánchez Díaz, David Arrivilaga, Jaqueline González, Cristina Rios, Alexander Gudiel, Heidy Galindo, and María Alejandra Gutierrez. Senaida Ba Mucu also helps prepare field trip reports and turn bibliographies into PDFs. Abigail (Gaby) Cabnal has assisted our teams for various years. Her family was constructing a new home in Senahu so she has been helping per family there in Alta Verapaz.
On field trips we are also assisted by Norma Estefany Cho Cu, Byron Alberto Halal Pacay, and Gaby Cabnal. We also appreciate the experienced licensed drone pilot, Haniel López, for his helpful capability of piloting essential drones.
On field trips in recent years were were assisted by Senaida Ba Mucu. Presently we are assisted by Norma Estefany Cho Cu and Byron Alberto Halal Pacay. We also appreciate the experienced licensed drone pilot, Haniel López, for his helpful capability of piloting essential drones.
Photographers & Video for Flora and Fauna Field Trip Research Projects
Edwin Solares is the new lead photographer. David Arrivillaga continues as photograph editor and production. Nicholas Hellmuth has been photographer at FLAAR since 1970 (so over half a century). His photos have been published by Hasselblad Magazine and National Geographic (in 1978), plus he won a Kodak Award decades ago.
María Alejandra Gutierrez was capable photographer for many years; she is now taking care of her newborn daughter. She is preparing a helpful registry of the multiple terabytes of photographs that our team take each field trip each month throughout the Reserva de la Biosfera Maya.
Pedro Pablo Ranero is a photographer and also video editor, he is compiling the most beautiful shoots to document spectacular views of biodiverse ecosystems in remote areas that FLAAR is reaching.
MayanToons educational book preparation and production team:
Nicholas Hellmuth writes the original storyboards on each plant, mammal, bird, reptile, etc. based on his experience in Mexico, Guatemala, Honduras, and El Salvador (and Peru) since 1961. Kaqchiquel Mayan illustrators Rosa Sequen Subuyuj and Maria Josefina Sequen Subuyuj do the illustrations. Valeria Aviles is the leader of the MayanToons illustration team. Andrea Bracamonte and Isabel Trejo are two other illustrators collaborating with MayanToons projects. Their illustrations are delighting our social media readers each day.
MayanToons educational animated video preparation and production team
The entire MayanToons book team also contributes to the animated video preparation. Production manager is animator Laura Morales. We appreciate the cooperation and knowledge of cinematographer and video capability of Camila Morales and digital animator and digital video producer Gustavo Gallegos of their company anima.works. Animated videos are possible for the experience of Paula Garcia and Nizamaria Franco, two graphic designers who enjoy preparing each animated chapter for our social media followers.
Social Media Manager
Roxana Leal is the social media manager for the 4,192 LinkedIn contacts of FLAAR and Nicholas Hellmuth plus Facebook, Twitter, etc. for FLAAR-Mesoamerica and MayanToons.
Office Managers
Flor de Maria Setina has been office manager for over a decade. Vivian Hurtado is now manager and organizer of Flora and Fauna research and publications, Vivian Diaz continues in many helpful managerial roles including MayanToons books and animated videos.
Website Network
Our websites are handled by webmaster Paulo Nuñez and web designers Juan Carlos Hernandez Tello and María José García.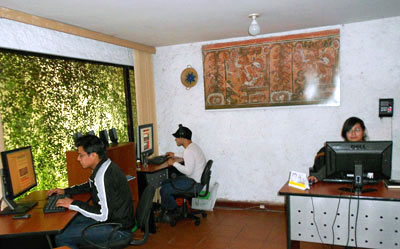 ---
The additional team of FLAAR-REPORTS are presented on www.FLAAR-Reports.org. They accomplish research and reports on digital imaging and wide-format inkjet printing technology. Our experience in the world of large-format printing enables us to prepare material for museums, botanical gardens (did two exhibits of flowering plants of Guatemala at MOBOT) and especially to prepare educational material about local plants and animals to donate to schools in remote areas of Guatemala. Their research team, social media team, video team are all credited in their videos, reports, and the web sites of this división.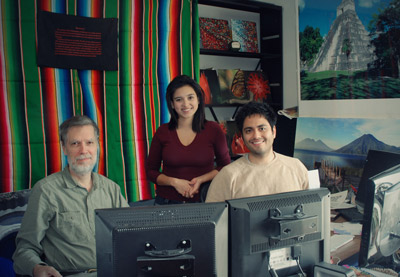 ---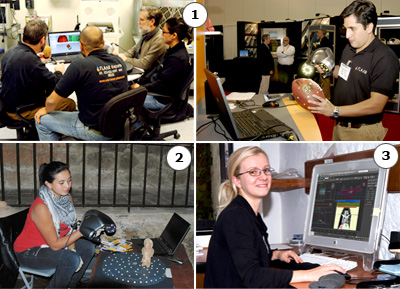 ---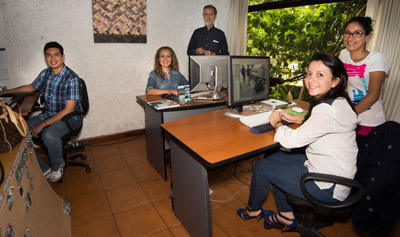 ---
Updated April 2022.