Posted July 24, 2018
LiDAR aerial photography has suggested "millions more Maya" lived in their homelands than previously estimated. What foods were available to feed all these LiDAR suggested people over 1500 years ago?
Even before LiDAR began, the team of FLAAR (USA) and FLAAR Mesoamerica (Guatemala) has been working for many years on improving the 1938 list by Carnegie Institution of Washington explorer and ethnobotanist Cyrus Lundell of Plants probably utilized by the Old Empire Maya of Peten and adjacent Lowlands.
Lundell's decade of work in Campeche and Peten lists several dozen fruits; the FLAAR list by Hellmuth is over 126 fruits: all native to Mayan areas of southern Mexico, Guatemala, Belize, and Maya portions of Honduras and El Salvador.
But there is one fruit missing in all recent botanical monographs on agroforestry and books on edible and medicinal plants of Belize (surely there must be a book from year 2000 onward that features this fruit, but we have not yet found it).
This same fruit is missing from Lundell and we have not yet found it in any recent book on edible and medicinal plants of Peten.
The same fruit is missing from the most recent monograph on ethnobotany of the Lacandon Maya area of Chiapas.
And this fruit was missing from Hellmuth's list also!
---
We will be posting an entire page on this tree; and a separate FLAAR reports photo album during August.
We at FLAAR have the following goals:
Help archaeologists by providing lists of the edible native plants available to the Maya thousands of years ago.
Help improve the health of the Mayan-speaking people today (and all their neighbors) by providing lists not only of all edible plants but also their vitamins, minerals, protein and other health benefits.
Help protect endangered species and fragile eco-systems.
Make lists of which pollinators pollinate each edible plant and encourage saving these pollinators from extinction.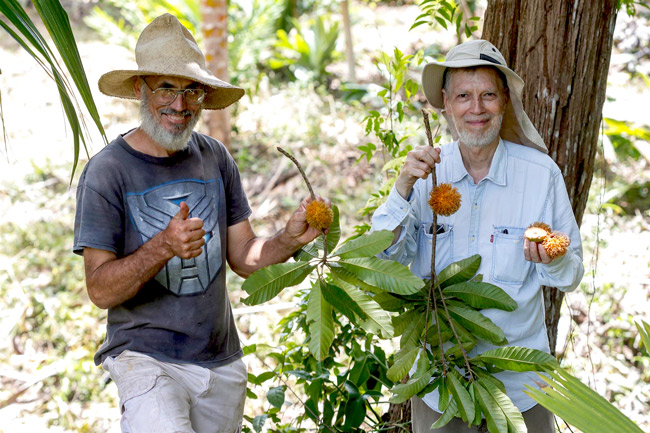 ---