Contact Dr. Nicholas, FLAAR, FLAAR Mesoamerica, MayanToons or FLAAR-REPORTS
FLAAR is the parent research and consulting institute.
FLAAR Mesoamerica accomplishes the fieldwork, flora and fauna research in Guatemala and produces the videos, infographic posters, and scientific reports. Links at bottom of this page.
MayanToons is a team working with FLAAR and FLAAR Mesoamerica on educational material for children on the fragile ecosystems and endangered species of Guatemala. Links at bottom of this page.
FLAAR-REPORTS has been doing research, reports, lectures, and consulting on digital photography, scanning, and especially wide-format inkjet printing (UV-curing, solvent, latex, water-based, textile) for all applications (décor through signage through industrial printing) for over two decades.
Each team has their own manager and their own team members with considerable experience.
Educational Lectures on Maya temple pyramid architecture
We have been presenting lectures on Maya archaeology since the 1970's around the world. Here we list a few examples: Maya art, iconography, architecture, royal tombs, rubber ballgames, flora and fauna of the Mayan areas. We have been flown to lecture on Maya, Teotihuacan influence on Mesoamerica, Olmec influence on Mesoamerica, Zapotec, Mixtec, Toltec, Cotzumalhuapa in Japan, UK, Malta, Spain, Germany, Austria, all across USA, Canada, Mexico, Guatemala, El Salvador, Costa Rica, etc.
You can fly Dr Nicholas Hellmuth to your home town for a lecture either on pre-Columbian archaeology, aquatic orchids, bromeliads of giant sizes in Guatemala, or water birds of the wetlands of the rain forest areas (and shown in Maya art over a thousand years ago).
Or, since we are in the year 2021, you can request a ZOOM conference (don't have to pay airfare, hotel or meals!).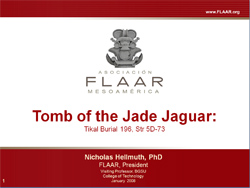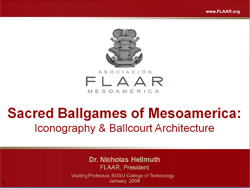 Lots of plants and animals related to Classic Maya art we know for decades. Plus we are doing research and learning about additional flora and fauna every month. In addition to our experience, we can also offer high-resolution photographs. FrontDesk FLAAR.org (add the symbol in the open space). You can write in English, español or Deutsch. We can also read French and Italian but will answer in English.
We have Kaqchikel, Q'eqchi', and K'iche' Mayan speakers working together with us. They are also available to present conferences in their Mayan languages.
Dr Nicholas Hellmuth (his logo name is Dr Nicholas) can lecture in English, español or Deutsch, or your local translators can simultaneously translate English into any other language in the world.
To request an article for your magazine (on flora, fauna, Maya, visiting Guatemala, Copan Ruinas, etc.)
We write for IMS Explorer, the newsletter for the Institute of Maya Studies. In the era when REVUE magazine was printed and distributed to every hotel in Guatemala, we wrote for REVUE about twice a year for many years. Presently we are finishing an article for SAVINGEARTH Magazine, a new magazine in Canada that focuses on saving fragile ecosystems and endangered species.
Over a dozen of our photographs were included in a book by National Geographic decades ago already. Since over half a million people read our combined network of websites, we tend to publish our own material in our own websites (since we have all the designers, illustrators, and editors in-house). But when a scholarly journal is interested, or a popular magazine, we are open to cooperate.
TV Appearences
During the 1970's-1990's we were featured by several documentary TV series (in part because we know local people who could get the TV crew into remote areas, since we led bird-tourism and eco-tourism groups to these remote areas. Last year BBC-TV contacted us, but at that time we were not doing underwater plants. Now that we are working in the Caribbean area of Guatemala, there are more rivers, lakes, lagoons, bays, mangrove swamps, and inland wetlands.
Drone Photography in Guatemala
We have a good resolution registered drone and a licensed drone pilot in Guatemala. For commercial drone photography, we will recommend this pilot with his own drone. For drone photography of flora, fauna, ecosystems, and assisting local communities, we will be glad to discuss this with you. FrontDesk FLAAR.org (add the symbol in the open space).
Photo Exhibits
We have accomplished popular photo exhibits of Maya art and archaeology at diverse universities and associations in Guatemala, twice at MOBOT (Missouri Botanical Garden, St. Louis, MO), and in Austria, Germany, and other parts of the world.
Our photos are fine art giclee status, high resolution, and we have scenes from rain forests, landscapes, and flowering Neotropical plants you can't easily get elsewhere.
Digital photography, scanning, in Guatemala
We have experience in digital photography at the top levels. If you need a photographer for a wedding, we would recommend several capable photographers that have worked with us in past years.
But if you need photography for flora and fauna, this we can discuss. This email address is being protected from spambots. You need JavaScript enabled to view it.
Video, of your event, of your flora and fauna, of Guatemala
If you wish video of your event anywhere in Guatemala, we would recommend Estuardo Torres with Sofia Monzon and their video crew. They are professional, have many years experience.
If you need video of local flora and fauna of Guatemala we (FLAAR Mesoamerica) can discuss this. This email address is being protected from spambots. You need JavaScript enabled to view it..
Consulting on how to increase tourism (for Guatemala and associated areas)
Nicholas was already assisting visitors to Tikal at age 19 while a student intern there. Within a few years of graduating he was organizing and leading eco-tour groups, especially people who wanted to see untouristed ruins in (in those years) seldom visited areas. He led groups to Calakmul and to El Mirador "decades" before highway was built to Calakmul and helicopter service flew you to El Mirador.
Now, as a result of several decades of knowing what visitors like to see in Mexico, Belize, Honduras, El Salvador, Dr Nicholas was asked to assist the Parque Nacional Yaxha Nakum Naranjo during 2018-2019. And in 2020 was requested by the Municipio de Livingston to help with their tourism (and to assist with preparing educational material for the local schools there, and to assist in finding, photographing, and publishing on flora and fauna of this area of Izabal).
We prefer to work in Mesoamerica, and will admit that Peten, Alta Verapaz, and Izabal are the areas we focus on, but we have visited every departamento in Guatemala multiple times during the recent 50+ years. We have also assisted Honduras with doing photography for their Visit Honduras posters (about 15 or more years ago). Nicholas was also a student intern on a Harvard archaeology project in Peru and the following year at a Yale University archaeology project also in Peru.
We are adept at helping local governments attract tourists since we know the plants that tourists like to see (lots more than just orchids); we know the animals that tourists like to see (lots more than just monkeys) and we know the birds that are favorites for Avitourism (bird tourism). We focus especially on waterbirds but enjoy studying raptors and "logo birds" such as the toucan.
Currently we are studying the boat-billed heron (sacred bird of the Olmec or Veracruz and Tabasco, Mexico, and Teotihuacan trade route areas in the Costa Sur of Guatemala. We have now initiated research on the two species of potoo bird. Birds are great for avi-tourism (birdwatcher tourism).
Lectures on digital photography and Inkjet Printers, Inks, Media, RIP Software, etc.
To lecture on printers, inks, décor printing, RIP software, color management, etc. we have been flown to lecture in Korea, China, Japan, Taiwan, Russia, UK, all across EU, across USA, Canada, Mexico, Panama, etc.
The front covers below are from past decades. Obviously we also have fresh material from current research.
Consulting for Inkjet Printing, Printers, Inks, Cutters, and related topics
If you wish to request consulting services from FLAAR-REPORTS team, contact This email address is being protected from spambots. You need JavaScript enabled to view it.. We provide consulting in digital imaging around the world (since the last 1990's). From 2001 onward we provided consulting for governments, Fortune 500 companies, and universities. For wide-format inkjet we have specialists in textile printing, UV-curing printing, inks, printable materials, etc. We also assist print shops.
We apologize that we can't answer all incoming e-mails requesting general information. But for a Zoom conference or flying us to anywhere in the world, this we can arrange. Dr Nicholas was a Million Miler already on Delta airlines alliance and would have made Million Miler on United Airlines alliance this year if travel had not been cut off by airports and borders being closed.
Consulting Reports

| | |
| --- | --- |
| | |
| Consulting for giclee, decor, fine art photography and scanning. (FREE Download) | For all wide-format inkjet printers, RIP, Ink & Substrates. (FREE Download) |

Consulting for UV printer manufacturers, available to manufacturers only: ink, media, substrate, scanner, RIP software, printer manufacturers, integrators, parts manufacturers, please request this by e-mail from This email address is being protected from spambots. You need JavaScript enabled to view it.

To obtain this PDF on consulting services for financial analysts and
business strategy consultants, please request this by e-mail from This email address is being protected from spambots. You need JavaScript enabled to view it.
The brochures on this web page are of antiquated date because every year we have more expertize but we are so busy doing research and out on consulting sessions that we have not updated the brochures. This email address is being protected from spambots. You need JavaScript enabled to view it.
Comments
Your comments help us to improve our services, and are always welcome at This email address is being protected from spambots. You need JavaScript enabled to view it.
WhatsApp
Obviously we each have phone systems capable of communicating with any and all pertinent Apps. But the office phone is VoIP from when Dr Nicholas lived in Ohio while a professor at Bowling Green State University. So although in theory it does accept voice messages, it definitely is not a "smart" phone (so can't take any texting, no Whatsapp, etc.).
Since during COVID most of us work from home office, the main office phone is not always answered (because that person is at home that day). So e-mail is the best way to communicate.
Web Problems, Correcting Documentation on flora and fauna
To alert us to broken links or other problems with our Web sites, email This email address is being protected from spambots. You need JavaScript enabled to view it.