Posted June 5, 2018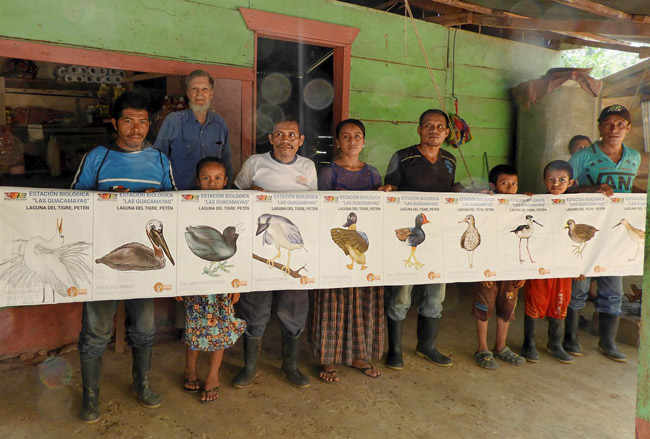 ---
One of our goals is to assist local people to learn about the endangered species, especially birds, mammals and pollinators. So the graphic designers and illustrators of FLAAR Mesoamerica in Guatemala prepare educational drawings of all the species of interest.
We then take these drawings to printer expos and various companies that know FLAAR Reports do the printing for us. We then fly these horizontal banners back to Guatemala and drive several days to reach remote settlements.
This Q'eqchi' Mayan aldea is best reached by 4WD double-cabin pickup truck. We visited with the village leaders. They asked assistance with respect improve methods for pumping water from a cave, since the village's previous water source went dry in past months. Before we hiked several kilometers to reach the cave spring, we showed the village leaders and their families the kinds of material we were preparing for local schools. They eagerly expressed interest in having these banners for their schools, so we donated the two banners that we happened to have.
We will return to this area in the future and donate additional educational material. What would most help would be if a foundation, corporation, individual, or embassy program could print the books we have ready for primary schools (www.MayanToons.org). These books are ready in Spanish, English, and Q'eqchi' Mayan languages. The local teachers have told us they prefer if everything can be in those three languages.
FLAAR (USA) and FLAAR Mesoamerica (Guatemala) are also seeking funds to assist our project on pollinators (more than just bees, butterflies and bats). We would like to prepare banners showing all major pollinators in Guatemala, Mexico, Belize, Honduras, and El Salvador.