We are dedicated to continue to be a source of information and education about flora and fauna of Mesoamerica today that is related to Classic Maya civilization 2000 years ago. What plants are edible (besides maize, beans, squash, ramon, and root crops?
The report on this web page has a more realistic list of edible plants were available 2000 years ago. Includes both cultivated plants plus plants of forests and other local habitats that can be harvested and eaten without needing to "sow" them.
We are working to learn what plants in these Mayan areas have healthy aspects to improve local food habits in rural areas today. Amaranth seeds and bledo leaves are but one example of a Maya and Aztec "superfood."
---
At age 19, in the tomb of the jade Jaguar (Burial 196, Str. 5D-73, Tikal) there were birds shown on the polychrome vases. The king's body was covered by a jaguar hide (yes, parts of the leather were still preserved, and of course all the claws). Seashells and stingraw spines adorned the body as well.
Still today we are doing research on fauna of the Mayan world: birds (especially waterbirds), reptiles (crocodiles, snakes), frogs, toads, scorpions, deer, plus all creatures associated with treetop ecosystems.
Even though we also have a large research library on birds, insects, mammals, reptiles, etc., we prefer to be out in the forests, swamps, bogs, rivers, and savannas. We also coordinate our research with local people: we provide them the library documentation, they cooperate with their first-hand experiences.
FLAAR is a non-profit educational organization founded by Nicholas Hellmuth in 1969 to map and preserve the Classic Maya ruins of Yaxha and nearby Classic Maya cities of Peten in the early 1970's. Together with Guatemalan archaeologist Miguel Orrego, archaeology students in Guatemala and from US universities, we accomplished improved maps of Yaxha, Nakum, and Topoxte Island. Several of the helpful students then initiated their own projects nearby and achieved additional advances. Here you can find more about Our People, FLAAR employees and people that colaborated with us.
One distinguishing characteristic of all our field work is our dedication to high-resolution photography. My first photographs were in Palenque, at age 16, in 1961, with a Leica camera. I was at Bonampak with the same camera in 1962 and spent every available summer day photographing Puuc, Chenes, and Rio Bec temples and palaces. Gradually learned about medium format cameras and in subsequent years learned the benefits of 4x5" cameras and 8x10" film cameras (especially for photographing temples, palaces, acropolises, and ball courts).
This focus on medium-format and large-format photography evolved into learning about how printers could reproduce these high-resolution images. Our first research and reports on the printing aspect were a result of a 6-month honorary Visiting Research Professor position by the Japanese government at MINPAKU, the Japanese National Museum of Ethnology, outside Osaka, Japan.
Digital imaging technology experience can assist National Parks, Museums, and Schools
The technologies receiving primary focus by FLAAR involve very high-resolution digital imaging. FLAAR has performed over 20 years of research within the fields:
Fine Art Photo Giclee printing processes
UV-Curable Ink Flatbed Printers
Solvent and Eco-solvent inkjet printers
Flatbed cutters, laser cutters, laminators, coaters
Our wide-format inkjet printers have been exhibited in two expos at Missouri Botanical Garden (MOBOT). Our photographs of flora, fauna, and Classic Maya archaeology have been exhibited in Graz, Austria, Cologne, Germany (at Photokina) and in museums and universities in Guatemala, Central America.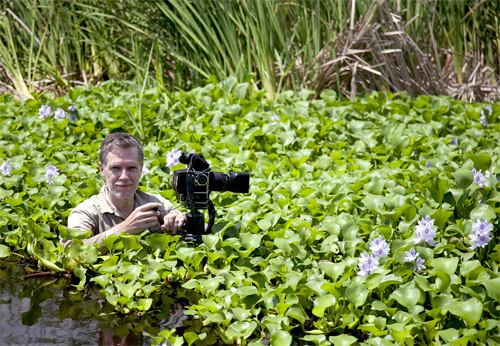 ---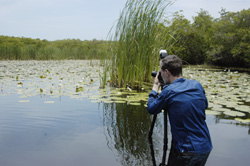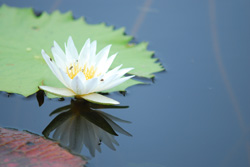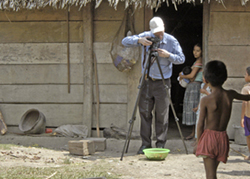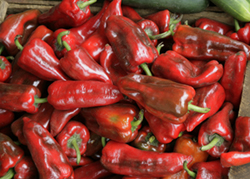 ---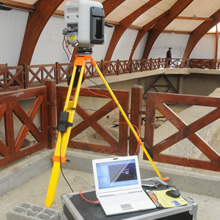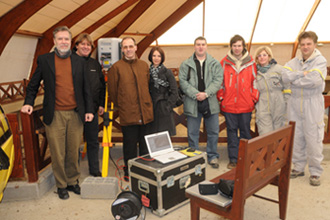 ---
---
---
February and March 2020 were dedicated to one-week-per-month field work along the rivers, creeks, lakes, lagoons, swamps, and hillside biodiverse ecosystems of the Municipio de Livingston, Departamento de Izabal, Guatemala. This project is at the request of the coordination team of the Alcalde of Livingston. The initial reports and results are on the NEWS areas of home page of www.maya-ethnobotany.org and www.maya-ethnozoology.org.
From September 2020 through today (late October 2021) we are accomplishing more field work here, including preparing material for local schools in Q'eqchi' Mayan and in Garifuna language, and preparing infographic posters to suggest reasons for preserving endangered species and fragile ecosystems.
New Project, for 2021-2015, Rain Forest Ecology of Peten, Guatemala
We now have a new 5-year research project of coordination and cooperation with CONAP for the entire Reserva de la Biosfera Maya (so from Lake Peten Itza at the south all the way up to Peten-Campeche border on the north; Peten-Chianas-Tabasco border at the west all the way across Guatemala to the Peten-Belize border at the east.
We will have been encouraged to work the first year of field work in the rain forests of an association of Parque Nacional Tikal (PANAT), Parque Nacional Yaxha, Nakum and Naranjo (PNYNN), Bio Itza, Cerro Cahui, and Biotopo San Miguel la Palotada El Zotz.
We have also been asked to assist in developing educational programs in Mayan languages for school children in the Parque Nacional Sierra de Lacandon (far northwest corner of Peten area of Guatemala). If your family, friends, foundation, or other entity can provide funds to FLAAR, our MayanToons book division team can help thousands of Mayan children in rural areas of the far-away karst geology rain forests.
Our 5-year project also includes all other biotopes, nature reserves, and national parks within the Reserva de la Biosfera Maya. If you look at the short video below, you can see what we are finding (that no other professor or student has yet been able to reach because it's so deep into the bajo rain forests, south of Rio San Pedro, western Peten).
---
Here is the emotional video as we find an open grassland savanna in the middle of the high lowland bajo forest area of PNLT of RBM.

The video is bi-lingual, English and Spanish.

FLAAR is non-profit research and publishing institute in USA. Donations by check payable to FLAAR or stock is tax deductible to the extent allowed by law.

FLAAR Mesoamerica is a non-profit research and publishing institute in Guatemala. Donations from Latin America can come straight to our project in Guatemala.

Neither the director (Dr Hellmuth) nor the Board of Directors of FLAAR receive any salary or any payment from donations; all donations go to project field work costs and preparation of the reports with high-resolution photographs.

FrontDesk symbol FLAAR.org is how to reach us. We estimate you can delete the word symbol, add the actual symbol, and use this as an email.
---
204 page report showing howler monkeys, wáter birds, flowers, lichen, mushrooms, trees, vines and wetlands ecosystems of the rain forests of the Peten área of Guatemala, Central America.
This edition documents what we have achieved in 2018-2019 in Yaxha, Nakum and Naranjo national park and 2020-2021 wetlands field work research project in Izabal plus the first results from the new year 2021-2025 project of coordination and cooperation with CONAP (the forestry, ecology, and nature preserve conservation agency of Guatemala).
This photo album of flora and fauna explains what we have achieved and what we will accomplish in the additional coming four years (especially when outside funding becomes available).
---
Most recently updated October 27, 2021